Spring Break Safety Tips & SHOLDIT Giveaway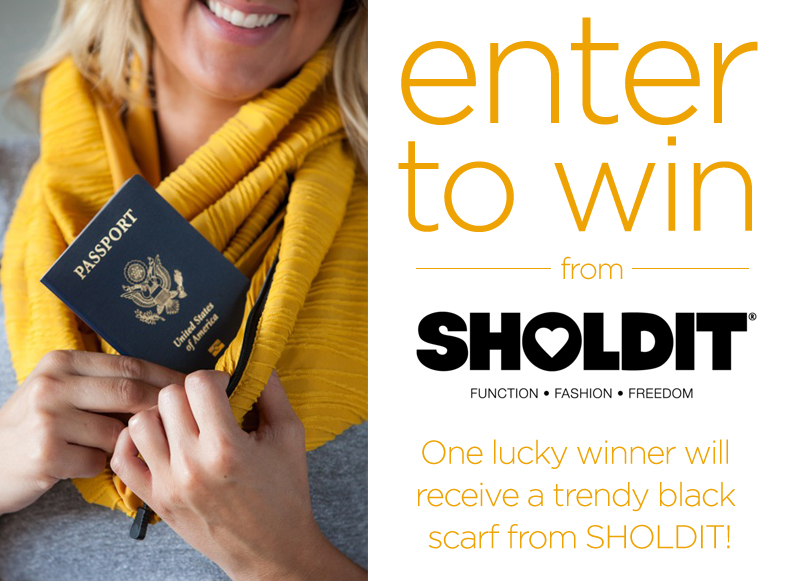 When it comes to staying safe on spring break, you can't be too careful. Of course, you also want to look good, too! This is where SHOLDIT comes in.
This Clutch Wrap security scarf is offered in four neutral, easy to match colors that include black, navy, eggplant and titanium. It is a long infinity scarf style that can be looped two or three times, increasing the warmth as you go. What makes it unique is the two hidden zippered pockets that can house what a cross-body or clutch bag can hold.
SHOLDIT is perfect for traveling light. Shopping trips can be a breeze making your phone, credit card, keys and wallet all easily accessible. It's also great for airports because you can store your boarding pass or passport and then easily take it off to go through X-Ray security screening.
This hands free solution is ideal for those winter traveling trips where you might be hitting the ski slopes or sledding. All of your items are stored safely around your neck — keeping you from having to dig for lost items in the snow.
The Clutch Wrap stores nicely and compactly in a pouch that matches the purchased color. It remains lightweight and matches well with any outfit. The style is simple and versatile enough to transition from season to season and will be sure to make your life easier.
Before you hit the road, check out these two articles about staying safe on spring break:
• Travel tips for spring break
• Fun in the sun spring break tips
And now for the fun part! You could win a black SHOLDIT Clutch Wrap for yourself. Use the Rafflecopter below to enter for your chance to win!
No purchase necessary. Enter the SHOLDIT Clutch Wrap Giveaway before 11:59 p.m. (ET) on 2/28/14. One winner will be chosen shortly afterward and announced before 3/7/14. The winner must respond to the email he/she receives in order to receive his/her prize. Any prize winner not responding by 4/7/14 will forfeit his/her prize. Entries will only be accepted through the Rafflecopter application and before the deadline date.