Freebie Friday — Perfect Bar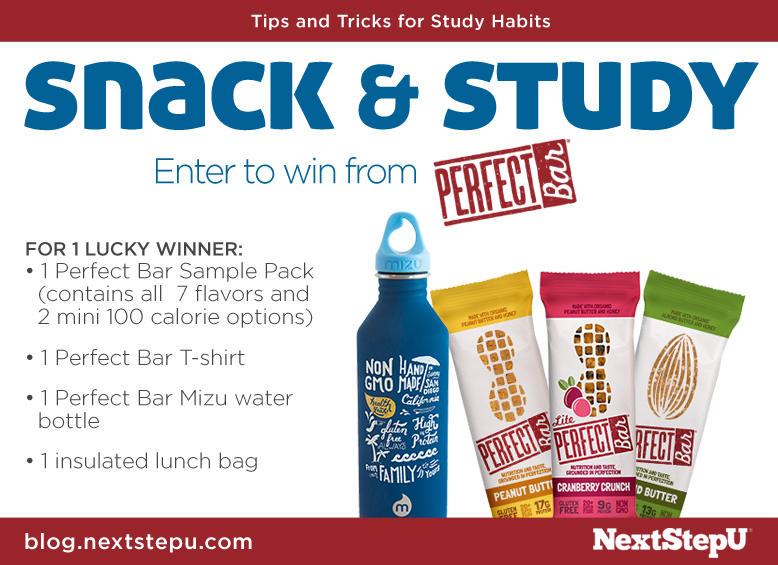 Let's finish off our week of study tips and tricks with one more giveaway for healthy snack choices! This week's giveaway is from Perfect Bar, dare we say the perfect study buddy!
Perfect Bar features high-powered protein for your brain (organic almonds or peanut butter) 20+ organic superfoods and contain no chemical preservatives or refined sugars — simply sweetened with honey. The bars come in 7 amazing flavors and are Oregon Tilth organic certified, OU Kosher certified, NON-gmo, soy protein free, gluten free and even Paleo friendly.
Check here to find out where you can buy Perfect Bars in your area.
For today's giveaway you could win: 
• 1 Perfect Bar Sample Pack (contains all 7 flavors and 2 mini 100 calorie options)
• 1 Perfect Bar T-shirt
• 1 Perfect Bar Mizu water bottle
• 1 insulated lunch bag 
To enter for the chance to win, fill out the Rafflecopter app below. Each action you take in the app will give you an entry into the giveaway.
No purchase necessary. Enter the Perfect Bar giveaway before 11:59 p.m. (ET) on 10/29/15. One winner will be chosen shortly afterward and announced the week of 11/2/15. The winner must respond to the email he or she receives in order to claim his or her prize. Any prize winner not responding by 12/2/15 will forfeit his/her prize. Entries will only be accepted through the Rafflecopter application and before the deadline date.