Holiday Gift Guide — Speck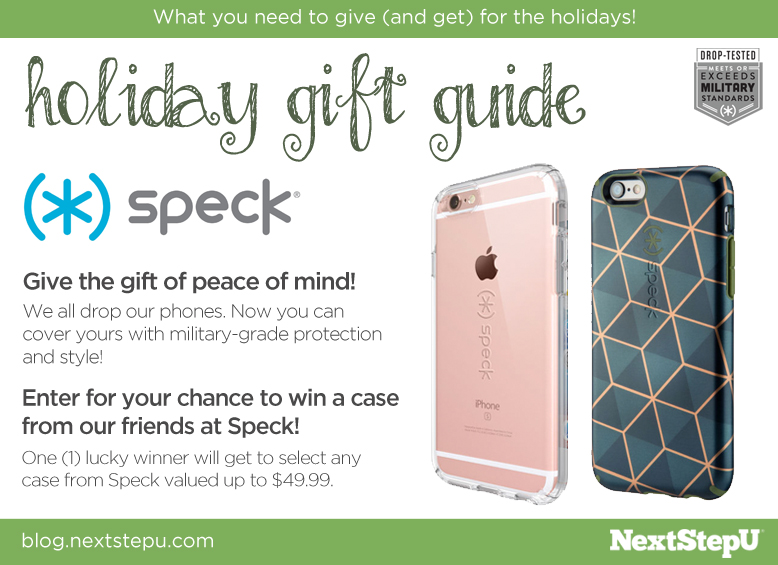 It's our favorite time of the year! We shared our Holiday Gift Guide with you on Black Friday to get your wish list started. We also teased that some of those items would be a part of our giveaway extravaganza.
Announcing the first of our Holiday Gift Guide Giveaways — Speck!
Speck makes products that are designed for impact to protect the tech you rely on. With a balance of slim lines and military-grade protection, they provide a difference you can see and feel. You'll get optimum protection and everything else: beautiful design, sleek lines, and purposeful details.
What good is a strong case if you don't like the way it looks, right? Beauty and strength are the best reasons to get a Speck case for your phone.
NextStepU put Speck to the test.
With some of us here on staff having Speck cases, we compared some of the features. We started with the Candyshell Inked iPhone 6 Plus in Fresh Floral Pink/River Blue and compared it to Candyshell Wrap iPhone 6 Plus case in White/Charcoal Grey.
With the Inked version of the Candyshell case, we love the pattern's color and design. The case is way more durable that it originally looked. It is also easier to get on and off compared to some of the competitor's cases (like Otterbox). The interior TPE layer (meant to absorb shock) is part of the whole case instead of a separate piece. It also doesn't get as dirty from use as some of the other cases out there with that same exposed inner layer.
When compared to the Wrap Candyshell case, the Inked version is lighter and more attractive with pattern choices. The Wrap case does have it's benefits though. The cover really helps protect the phone and we found it easy to hold it open (like a little book) or fold it over (behind the back of the phone). Browsing on the internet and answering texts, it was easy to handle with a hard plastic cover, but when taking a phone call, it did seem a bit cumbersome and awkward. If the folding creases on the case get more flexible over time, longer conversations will become easier. The cover does not lay flat and stay open on it's own and the clasp it really tight and sometimes difficult to open quickly. But we found that clicking down just one edge of the closure tab will suffice to keep it shut and then open quickly.
Overall we love each case and can see merits to having both versions and switching them out as needed.
Have your heart set on a Speck case? You can add it to your holiday wish list and try to win one here! One lucky winner will receive a Speck case of their choice valued up to $49.99. To enter for your chance to win, fill out the Rafflecopter app below. Each action you take in the app is an entry into the contest.
No purchase necessary. Enter the Holiday Gift Guide – Speck giveaway before 11:59 p.m. (ET) on 12/10/15. One winner will be chosen shortly afterward and announced the week of 12/14/15. The winner must respond to the email he or she receives in order to claim his or her prize. Any prize winner not responding by 1/14/16 will forfeit his/her prize. Entries will only be accepted through the Rafflecopter application and before the deadline date.