Freebie Friday — TigerLady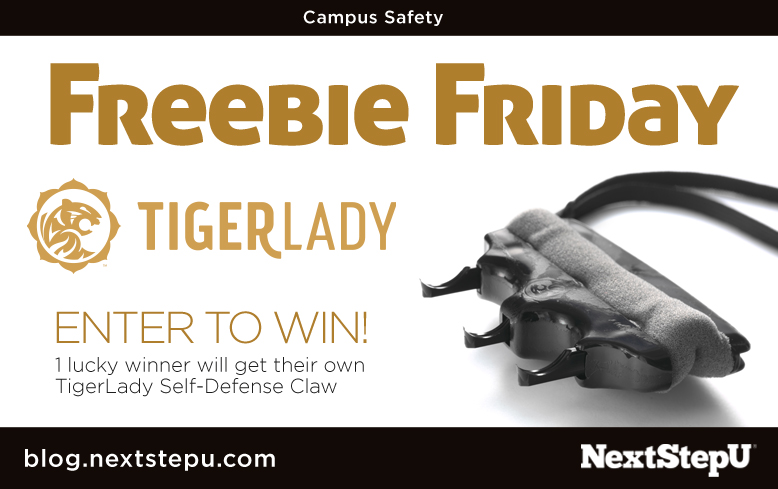 College students (or parents of a college student) worry about being safe on campus. Campus safety is a nationwide concern that can not be overlooked or ignored. According to Whitehouse.gov, "one in five women will be assaulted during their time in college."
NextStepU has often covered safety with articles and tips. Today we are thrilled to be able to offer information about the TigerLady Self-Defense Claw.
TigerLady is an innovative self-protection device designed for women with a dual purpose; holding it provides a feeling of readiness and quiet confidence to the user, and when necessary, TigerLady immediately reveals itself to be a potent self-defense tool to shift the balance of power.
"We want women to feel safe and in control in every situation," states Jeff Levine, co-founder of TigerLady, who went on to say, "holding this device will help a woman feel confident, and more aware of her surroundings." Co-founder Evan Levine adds, "We want to give women discrete protection so potential attackers will be unaware of their capabilities." Additionally, co-founder Josh Levine points to Federal State Department research that states, "89% of assaults did not involve the use of a weapon," and "84% of assault victims reported the use of physical force only."
TigerLady is modeled after a cat's retractable claws. Simply squeezing the device immediately exposes three claws between your fingers. Hollow channels on the underside of the claws capture the attacker's tissue for DNA analysis, so "you don't need to see him, to ID him." Weighing less than 2 ounces, TigerLady is small enough to fit in a pocket or handbag, and requires no maintenance.
You can watch a short video about the TigerLady claw here.
Thanks to TigerLady, you have the chance to win one here! Enter for your chance to win by filling out the Rafflecopter app below. Each action you take in the app is a chance to win.
a Rafflecopter giveaway
> For more campus safety info, read our latest article.
No purchase necessary. Enter the TigerLady giveaway before 11:59 p.m. (ET) on 10/1/15. One winner will be chosen shortly afterward and announced the week of 10/5/15. The winner must respond to the email he or she receives in order to claim his or her prize. Any prize winner not responding by 11/5/15 will forfeit his/her prize. Entries will only be accepted through the Rafflecopter application and before the deadline date.