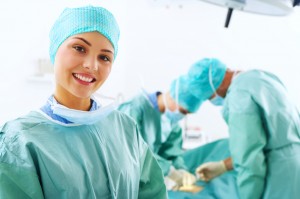 Anesthesiologists are medical physicians who focus on pain relief and a patient's life prior to, during and after surgery. These physicians work with other doctors in order to monitor a patient's body and how they are reacting to anesthesia.
Anesthesiologists are responsible for people's lives, so to say this is an important job would be an understatement. Imagine how important it is to administer the correct amount of anesthesia to a patient undergoing surgery so they do not feel any pain. If you want to be in charge of this, anesthesiology is the major for you!
Education
An anesthesiologist is a physician, so you must receive the formal medical education required of all doctors. Undergraduate programs usually do not offer anesthesiology as a major, so it is important to choose a science major, such as biology, for your bachelor's degree. Next, you must pass a medical college admission test to enter medical school. In medical school you will study the sciences and do clinical training.
After attaining an M.D. degree, anesthesiologists spend an additional four years completing a residency program. Finally, you must apply for licensing through the medical board in the state in which you plan to practice.
What to know before you apply
Be prepared to be in school for at least 12 years to become an anesthesiologist. You are going to have to do a substantial amount studying, so make sure your are ready for this. It is crucial that you pass entrance exams, medical school exams, and so on.
You are dealing with another person's life when you become an anesthesiologist, so you want to be prepared for this responsibility.
Salary
According to the Bureau of Labor Statistics, anesthesiologists earned an average wage of $246,320 per year as of 2014.