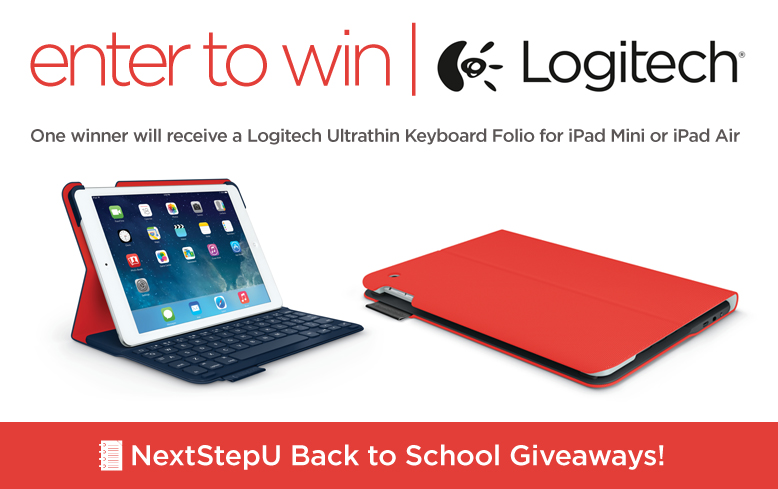 We want you to go back to school in style! Your parents got you that iPad you've always wanted, but now you need a great case to put it in. Logitech has an amazing Ultrathin Keyboard Folio for your iPad Mini or iPad Air.
The Logitech Ultrathin Keyboard Folio for iPad Air ($99.99) or the Logitech Ultrathin Keyboard Folio for iPad mini ($89.99) is a must-have. The spacious keyboard and Bluetooth connection allow you to be productive from anywhere. The case doubles as a stand so it's perfect for typing papers or emails, reading, researching or studying.
The case is lightweight and protects the front and back of the iPad to help shield the iPad from bumps, scratches and spills (which we all know are sure to happen!).
Additionally, the Logitech Ultrathin Keyboard Folio comes in a number of fun colors for those of you that love options. This case is currently available on Logitech.com for the iPad Air, iPad mini and iPad mini with Retina display.
We are giving away one Ultrathin Keyboard Folio for the iPad mini or the iPad Air to one lucky reader. Fill out the Rafflecopter app below to be entered for your chance to win!
No purchase necessary. Enter the Logitech Giveaway before 11:59 p.m. (ET) on 8/28/14. One winner will be chosen shortly afterward and announced before 9/5/14. The winner must respond to the email he or she receives in order to claim his or her prize. Any prize winner not responding by 10/5/14 will forfeit his/her prize. Entries will only be accepted through the Rafflecopter application and before the deadline date.