Major Monday — Petroleum Engineering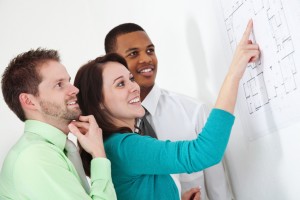 If you enjoy studying sciences, and you have a passion for traveling, you should consider a major in petroleum engineering. Petroleum engineers search for gas and oil reservoirs beneath the earth's surface, and find the quickest and safest way to bring those resources above ground. You should have your bags packed for this career, because you are likely going to be traveling the world and living in foreign countries. Petroleum engineers go where valuable reserves are located.
Education
A typical degree level required to be a petroleum engineer is a bachelor's degree. Many colleges may not offer this specific degree program for undergraduate students, so a science or engineering degree will suffice. Your undergraduate curriculum should emphasize earth science, chemistry, math, and physics. It is also recommended you take some language classes, seeing as you are going to be traveling to different countries. If you want to continue your education, a master's degree is encouraged, seeing as most petroleum engineering degrees exist at the master's level, due to it being a very specific area of study.
What to know before you apply
You must be good at the sciences to become a petroleum engineer. This major involves mainly math and science, so it is important you find those subject areas appealing. A petroleum engineer is involved in nearly all phases of the process, from finding the oil and gas, through extracting and distributing it. Be prepared to have all hands on deck if you should choose this major. You will not be able to sit back and watch others work; you are essentially going to be the leader.
Salary
According to the Bureau of Labor Statistics, the median annual wage for petroleum engineers in 2014 was $130,050. Employment rates for petroleum engineers are expected to grow 10 percent from 2014 to 2024 due to the change in oil prices. The higher oil prices get, the more petroleum engineers will be needed.