Holiday Gift Guide – TP-Link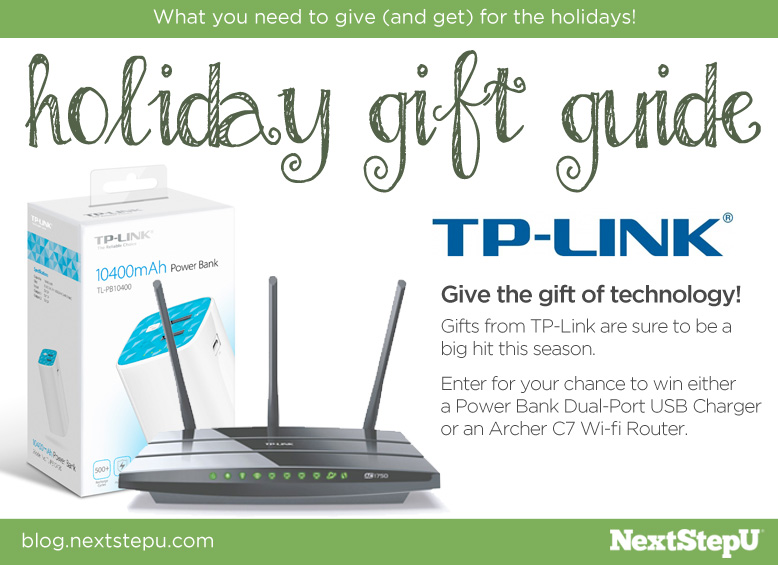 We love the holiday season! Today is our second giveaway in the NextStepU Holiday Gift Guide Giveaway series.
We know you have tech needs — but do you really know what the best devices are? Unless you have a love for all things tech, it can sometimes be difficult to figure out what the best options are.
TP-Link offers tested and proven products that make your digi life easier. For our gift guide, we are suggesting the Power bank Dual-Port USB Charger and the Archer C7 Wi-fi Router.
TP-Link's Power Bank is a dual-port USB charger that enables two devices to be charged simultaneously. This means your smartphones, MP3 players or handheld game systems can all be charged at once. It is even compatible with larger 2A devices like tablets. The Power Bank is small so makes it easy to slip into your bag or coat pocket.
The Archer C7 is dual-band, three-stream wireless-ac router perfect for multiple people using the same signal. For college students with roommates, it's perfect for sharing Wi-fi. For a faster router, it is priced ($80-$100) the same as many slower routers (making it a great value).
Now for the fun part — We're giving away (1) Power Bank and (1) Archer C7 router! To enter for your chance to win, fill out the Rafflecopter app below. Each action you take in the app is an entry into the giveaway.
No purchase necessary. Enter the Holiday Gift Guide – TP-Link giveaway before 11:59 p.m. (ET) on 12/13/15. One winner for each prize will be chosen shortly afterward and announced the week of 12/14/15. The winners must respond to the email he or she receives in order to claim his or her prize. Any prize winner not responding by 1/14/16 will forfeit his/her prize. Entries will only be accepted through the Rafflecopter application and before the deadline date.