Holiday Gift Guide — Whooz?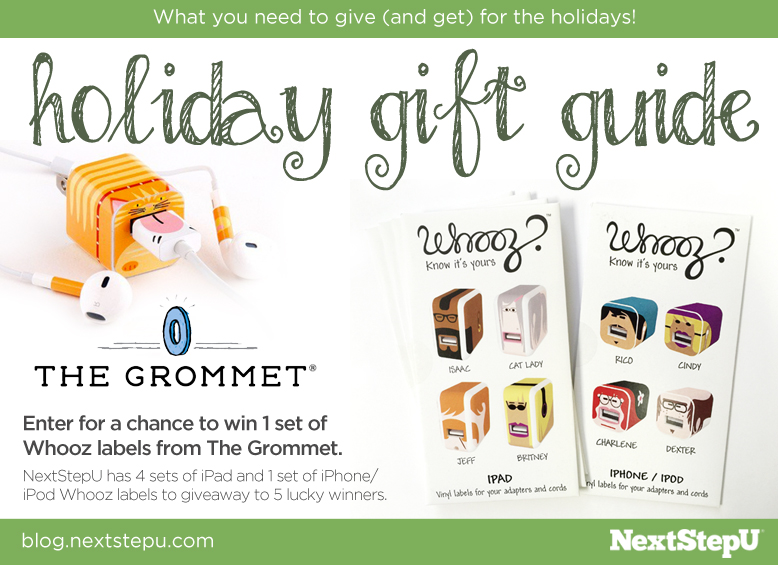 Never argue with your roommate (or brother) again about stealing your cord! Mark your territory in the most fun way possible with Whooz labels from The Grommet.
Fun iPad, iPhone or iPod stickers cover your chargers with a series of quirky faces (and names) to help distinguish one person's charger from the next.
Each set:
• Is made out of removable vinyl labels.
• Contains 4 sheets of labels, each sheet with its own distinct design.
• Contains stickers for: earbuds, both ends of iPad, iPhone or iPod and charger.
You can find Whooz labels on The Grommet's website. You can also win them here!
Enter for your chance to win either a set of iPad or iPhone/iPod charger Whooz labels. We will have 4 iPad winners and 1 iPhone/iPod winner. To enter the contest, fill out the Rafflecopter app below. Each action you take in the app counts as an entry.
No purchase necessary. Enter the Holiday Gift Guide – Whooz Labels giveaway before 11:59 p.m. (ET) on 12/23/15. Five winners will be chosen shortly afterward and announced the week of 12/29/15. The winners must respond to the email he or she receives in order to claim his or her prize. Any prize winner not responding by 1/29/16 will forfeit his/her prize. Entries will only be accepted through the Rafflecopter application and before the deadline date.