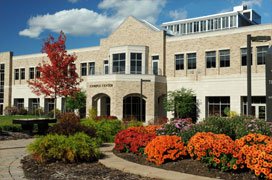 St. John Fisher College is an independent liberal arts institution in the Catholic tradition of American higher education located in Rochester, New York. The college is guided by the educational philosophy of the Congregation of St. Basil and emphasizes liberal learning for students in traditional academic disciplines, as well as for those in more directly career-oriented fields.
Academics
SJFC offers over 32 academic majors in the humanities, social sciences, natural sciences, business, education and nursing, as well as 9 pre-professional programs, 12 master's programs and three doctoral programs.
Admission is based on high school record, strength of curriculum, scores on standardized tests (SAT/ACT), extracurricular activities and/or work experience, personal statement/essay and counselor/teacher recommendation.
Two prominent programs offered at the college are the Wegmans School of Nursing and the Wegmans School of Pharmacy. Other academic programs include the School of Arts and Sciences, School of Business and the Ralph C. Wilson Jr. School of Education.
Campus Life
Students have the opportunity to choose form over 70 campus clubs and organizations, including student government, music groups, language clubs, cultural organizations, student publications, and intramural sports. Many academic departments also sponsor clubs to promote interdepartmental networking and team building.
The campus, located in the bustling city of Rochester, has a wide spread layout with 24 modern buildings, an athletic stadium, a brand new track and field complex and a 9-hole golf course. The school resides on 154 park-like acres in the town of Pittsford and is just a few miles from artsy and cultural downtown Rochester.
Athletics/Sports
The College offers 21 intercollegiate sports – 10 for men and 11 for women. Fisher is a member of the NCAA-Division III, the Eastern College Athletic Conference and the Empire 8.
> For more information about St. John Fisher College and to request information, visit their profile at NextStepU.com.