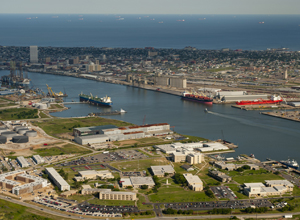 Today we are focusing on Texas A&M University at Galveston, the ocean campus of Texas A&M University at College Station. Students with a passion for studying in an ocean environment come from all corners of the world to study at Texas A&M Galveston's campus located on Galveston Bay, giving its students direct access to the ocean. Texas A&M Galveston is also home to the Texas A&M Maritime Academy, one of six academies in the U.S. that prepares its students to be licensed as Third Mates or Third Assistant Engineers while simultaneously earning a bachelor's degree. The academy also commissions to those who want to serve as officers in the United States Merchant Marine, Navy, and Coast Guard.
More than 2,200 students are enrolled at Texas A&M Galveston. Those students are served by 150 faculty members and lecturers, allowing for more face-to-face and after class time with instructors. The school features a fleet of floating classrooms, giving students the ability to conduct research in the nearby inlets and bays. Its training ship, the General Rudder, takes cadets on summer cruises to ports around the Gulf of Mexico, Atlantic Ocean, and Caribbean Sea.
Outside the classroom, students at Texas A&M Galveston can participate in leadership training, clubs, intramurals, traditions, student government, the student newspaper, drama club, and more than 60 diverse student organizations. Students at the Galveston campus are Texas A&M Aggies, so their teams are all the NCAA Division 1 teams at Texas A&M College Station. Being Aggies by the sea, on-site sports at Galveston are often centered around the ocean. Club sports at Galveston include fishing, scuba diving, swimming, volleyball, soccer, rowing, and sailing, as well as a slew of intramural sports.
Tuition at Texas A&M Galveston is charged at a set rate for four years for undergraduate students. This predictability helps students and their families plan their finances. Galveston also offers many financial aid options, including grants, scholarships, loans, and student employment opportunities. Many of the school's graduates receive job offers or graduate school acceptances before graduation. This aid in financial stability combined with Galveston's hands-on, personalized program experience makes it a great choice for students looking to immerse themselves in ocean studies.
———> Find out more about Texas A&M — Galveston at NextStepU.com!