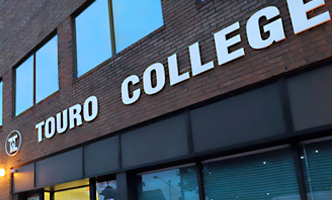 Today we are touring Touro College located in New York, N.Y.!
Touro College's New York School of Career and Applied Studies (NY SCAS) is a career-oriented college with convenient locations throughout Brooklyn, Queens and Manhattan. Offerings of day, evening and weekend classes make NY SCAS practical and accessible.
NY SCAS offers associate and bachelor's degree programs in many of today's most demanded fields: business management and administration, psychology, computer science, human services, desktop and Web publishing and much more. Transfer credits are accepted from many other academic institutions.
Fifteen libraries, located at various campuses throughout the city, are available for use by NY SCAS students. The online virtual library makes numerous texts, journals, articles and other relevant materials accessible from anywhere. Onsite computer labs, Learning Resource and Testing Centers, summer classes, an ESL program, Freshman Centers and a mentoring program all attest to the NY SCAS prioritization of student success.
As you can see, NY SCAS is truly a student-centered college. It provides rigorous challenges for the academically gifted, relevant assistance to those who require it and a caring, nurturing environment in which scholastic and professional goals can be pursued and realized. Generally, students are admitted to first pursue the associate degree and then progress to baccalaureate programs. Students who excel academically, international students and transfer students are all encouraged to apply.
> For more information about NY SCAS click here!