Military Monday — Military Review Course
Have you been considering joining the military after high school but no one was able to tell you what it was all about? Next Step Academy is your source to finding out the basics about serving in the military — and if it's the right path for you.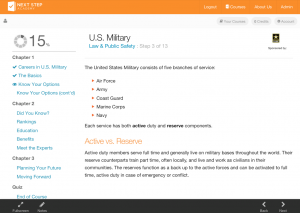 1. Start with a basic overview
Need a refresher on all of the different military branches? Don't know the difference between active and reserve members? Next Step Academy will walk you through the basics of joining the military, from where you can get involved, to benefits and preparing for your future.
2. Watch videos with experts in the field
We go straight to the source by interviewing professionals with experience in the military. Learn what it takes to be a soldier, what you can do to stand out on your application and interview and what some of benefits of service are — both while your serving and in the civilian world.
3. Take a quiz to test your knowledge
Like all courses on Next Step Academy, the U.S. Military course has a review at the end with a series of multiple choice questions. Test what you've learned in the course by answering the questions and get feedback on what you got right and what you need to review again.
4. Earn a badge — and a chance at an iPad Mini!
Once you complete the course, you'll earn a badge to show off your knowledge. And, to reward you for your efforts, Next Step Academy is giving you a chance to win an iPad Mini! Every course you complete and badge you earn gets you an entry into the monthly iPad drawing. The more classes you take, the more chances you have to win, so check out all of the courses Next Step Academy as to offer!