Trendy Tuesday — What to Wear During Midterms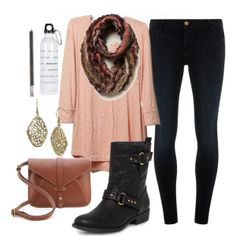 Ever been somewhere where you were grossly underdressed? Or maybe you showed up to a casual event in your Sunday best and spent the day totally uncomfortable?
In college, you are going to have many new experiences, so we want to make sure you never feel out of place with your attire.
Today, we're covering what to wear during midterm week:
Test days are the worst days. Add the stress of several tests being crammed into one midterm week and you may just be at your wit's end. On the morning of your test, you're probably groggy from staying up late the night before trying to cram as much information into your brain as you could while you were fighting to keep your eyes open. The last thing you want to do is wake up early enough to make yourself look presentable.
But they say the one way to make yourself feel better about a test is to look nice. The nicer you look, the more confident you feel. The more confidence you have, the better you'll do on the test. Even if you think you're going to fail the test, the little boost of confidence (even if it's fake) will do you good.
The night before the test, while you're taking a study break, lay your outfit out. I'm not saying look like you could go to a gala, just look decent enough. A nice shirt or sweater and jeans will do the trick. By laying out your outfit the night before, you'll save a step in the morning. You could take those extra five minutes to study, or just sleep.
What not to wear: Sweatpants and hoodies won't help you. As much as they call your name when you roll out of bed, resist their comfiness. Anything that you could wear to the gym or just throw on when you're going out into civilization is off-limits for tests. You don't want to be falling asleep in the middle of an exam — save your extra comfort wear for when you get back to your room. At that point, you'll deserve those sweatpants and maybe even a nice nap.