What to Wear Wednesday — Career-Worthy Clothing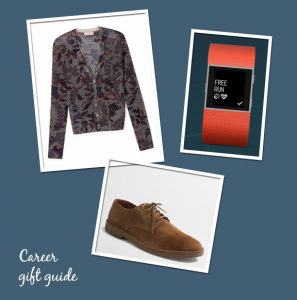 This holiday, you were probably interested in the latest gadget or trendy item — but what if you could get something practical that's also fun? Seems impossible I know, but either as a high school student looking for your first job or a college student fighting for that first post-graduate career move, padding your wardrobe with career-ready pieces might be the best thing to spend those gift cards on.
"Family members might want to buy something for a college student but often are unsure of what he or she needs," says James Mitchell, associate director for employer relations and recruitment programs at Ball State University's Career Center. "The holidays provide relatives an opportunity to help students add to their professional wardrobes." But professional clothes don't have to mean boring ones! Here are the top three items you should buy with those gift cards — and a fun pick of each to make sure you're not too stuffy.
1. Career-worthy shirts and blouses
Make sure you're covered up — but don't hide your personal style! For guys, try a button-up in a classic pattern and for ladies, get a patterned cardigan that can keep you warm — and stylish — in a chilly office.
Guy pick: Brooks Brothers Non-Iron Striped Button-Down Shirt  – $92
Gal pick: Tory Burch Printed V-Neck Cardigan – $88
2. Dress shoes
This is a great place to show your personal style — but make sure you can walk in them all day! For guys, try a classic oxford in a luxe material and for girls, try a classic black pump with a thick black heel for easy walking and oh-my-gosh-those-are-so-cute embellishments.
Guy pick: J. Crew Factory Calvert Suede Oxfords – $54
Gal pick: Bettye Muller Mylah Brilliant Suede Mary Jane Pumps – $156
3. Watches
Yes, a real watch is still necessary. While it's easy to check the time on your phone, it can be rather unprofessional to keep pulling your phone out all day long. Instead, try a classic option for guys or gals or get a smart-looking fitness watch that tracks your steps, your heart rate AND the time. That's a win-win-win!
Guy pick: Fossil Men's Choronograph Watch in Tan – $59
Gal pick: Kate Spade Polka Dot Rumsey Watch – $125
Fitness pick: Fitbit Surge in Tangerine – $249
For more articles about career, visit NextStepU.com.