Tuesday Tour Day — New England Institute of Technology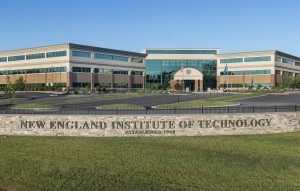 New England Institute of Technology (NEIT) is a private, non-profit, co-educational technical college located in East Greenwich, Conn. With a student body of just over 3,000, you can feel at home in a diverse but small environment where you're learning with other like-minded students. Find out more about NEIT on this week's Tuesday Tour Day!
Academics
NEIT offers over 30 associate degrees in science, plus several Bachelor of Science and Master of Science degree programs. Current degree programs include animation, automotive technology, carpentry, computer science, interior design, physical therapy, registered nursing and much more. As a leader in Technical Career Education in southern New England, New England Tech is committed to providing hands-on technological programs that prepare graduates for positions of leadership in the technical, industrial, business, and allied health communities. Most of the associate degree programs can be completed in as little as 18 months, and bachelor's degree programs in as little as three years.
Campus life
Get involved in a number of campus organizations, clubs and activities including honor societies, technology clubs, non-tech related clubs and student activities. On-campus activities are always happening, so you can meet and mingle with students at open mic events, golf tournaments, cookouts, video game tournaments, ice cream socials and much more. You'll never be bored if you get involved!
Tuition
For a very limited time NEIT is offering a tuition freeze promotion where you will not experience tuition increase from 2015 rates for the 2016 winter semester if you enroll before the end of this week (January 8, 2016).  In addition to NEIT's policy that your tuition won't change for as long as you are enrolled, this is an excellent way to keep costs down throughout your college experience. Inquire more about this policy as well as for scholarship and tuition assistance by requesting information.
For more about NEIT and to request information, visit their college profile at NextStepU.com