Here is a great graphic representation of how you should be considering your major. The best success lies in choosing something that you love, that pays well enough for you to live and you are good at it.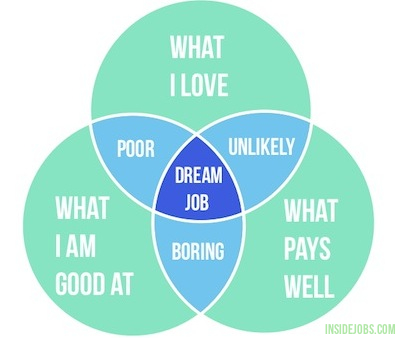 Compromising on any of these three areas can lead to a major in a career that you either find unchallenging or won't pay you enough to propel you into a life where you can purchase the things you need to be on your own.
Keep these three elements in mind and ask yourself before you commit to a major: Am I good at this? Will it pay me well? Will I love it? Answering with a "not likely" to any of these three is a recipe for disaster. You risk graduating with debt only to be qualified to work in a job you aren't looking forward to interviewing for.
Choose your major realistically, but also with your heart in mind. The average American works 80,000 hours in their lifetime. Make sure you are ready to enjoy those 80,000 hours.
Source: Pinterest
> For more major and career advice, check out NextStepU.com.