A book review of "U.S. News & World Report's Best Colleges 2014"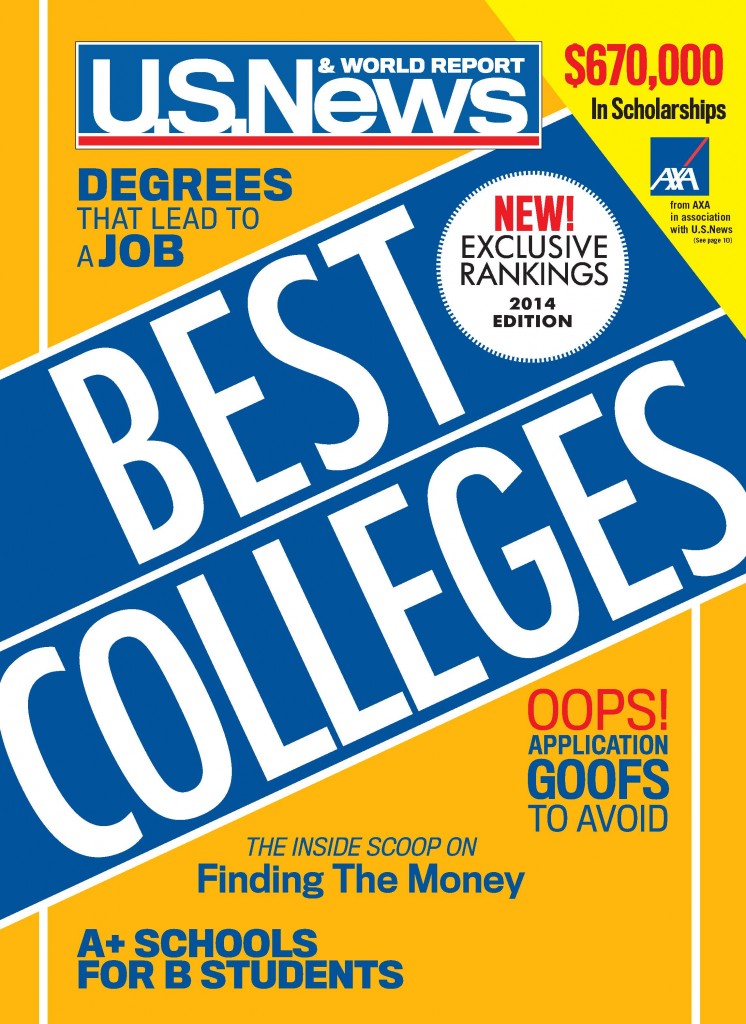 You have no doubt heard about "U.S. News & World Report" and its guide to the nation's best colleges. You probably associate it with numbers, lists and rankings. But it actually provides much more information than how your first choice college stacks up in relation to every other university in the country. The guide educates you about how taking the initiative during the college search will benefit you for a long time after the applications are sent. Here are some takeaways that every high school student should remember during the search:
Start early, think deeply
When I started researching colleges in the eighth grade, my teachers and peers thought I was weird. However, I would probably fit in just fine at this point in time. U.S. News' Brian Kelly notes that "the stakes of the college hunt keep getting higher," and he is absolutely right. Costs are rising, financial aid is covering less and jobs are still difficult to find. So you need to start thinking about what you want from your college experience as soon as possible. Maybe even before you decide to attend college. Examine your passions, find out what you are good at and explore different colleges through tours or through brochures. Picture what you want from life after earning your undergraduate degree. Kelly claims that there is no "best" college; "The point is to find the one that matches your ambition and abilities."
Public or private? Big or small? Liberal arts or technical?
Determining the right college for you means more than just considering its featured programs or overall cost. You need to decide which environment is best for you. Are you leaning towards a private school or a state university? Do you work better with more individual time with a professor or within larger classes? Are you interested in taking courses in many different subjects, or do you want to begin your major your first day? "The first step in narrowing your choices should be a long good look in the mirror," the guidebook advises. "What characteristics must a school have to make you happy?"
Focus on the whole package
When searching for the best college for you, avoid having tunnel vision. Thinking about only the cost, the education, the reputation or the environment will give fewer options and could give you a false sense of what the school is really like. Rebecca Ridings, an alum of John Brown University, was initially "struck by the beauty of the campus's blooming dogwoods and its peacefulness." But she found that it was the best choice for her because of its educational methods, its campus and its extracurriculars. "JBU's small class sizes and professors that care only made me feel more at home," she remembers. "The school may be small, but it has excellent resources."
Similarly, Jasmine Ellis first heard about Spelman College when she was 10. Her interest was piqued because of the school's dedication to attracting women of color from all over the world. While that is very impressive, it is not the only factor Jasmine considered before applying. "Spelman provides a strong liberal arts education, a supportive faculty and ample opportunities to develop leadership skills," she explains. "I will leave college with the skills and connections that…will enable me to change the world."
Now that you are better equipped to make your decision, consider getting a copy of "U.S. News & World Report's Best Colleges 2014" and begin your research. Other great resources in the book include: How online learning might affect you, how eight high school seniors made it in, hot new majors, and a what to-do list.
As a friend of NextStepU, you have access to a discount code for the book. Use code SCHOOL25 to receive 25% off your purchase!
Written by Rachel Montpelier. Rachel is a senior at Nazareth College in Rochester, N.Y. and is the editorial assistant at NextStepU.